Fatigue. Anxiety. Stress. Temptation. Fear. Despair. Lies. Revenge. Sound familiar? These are some of the devil's favorite schemes for eroding our faith in God. He wants us to believe that we're stuck, that our situation is hopeless, that defeat is our destiny. If we're not careful, these deceptions set us on a slippery slope to spiritual defeat.
Satan's Profile: The Father of Lies
John Wesley wrote, "As the most dangerous winds may enter at little openings, so the devil never enters more dangerously than by little unobserved incidents, which seem to be nothing, yet insensibly open the heart to great temptations."1 The best way to wall off our heart from Satan's enticements is to know the Scriptures. They teach us how to withstand the enemy's ploys by giving us a glimpse of his character, tactics, and purpose. Here are a few descriptions of Satan from the Bible.
Murderer. Jesus told a group of unbelieving Jews, "You are of your father the devil, and the desires of your father you want to do. He was a murderer from the beginning" (John 8:44).
Liar. Continuing in John 8:44, Jesus described Satan's deception: "[The devil] does not stand in the truth, because there is no truth in him. When he speaks a lie, he speaks from his own resources, for he is a liar and the father of it."
Predator. According to 1 Peter 5:8: "Your adversary the devil walks about like a roaring lion, seeking whom he may devour."
Knowing these facts about our enemy, why do we still fall into his traps? Often, we give in to distractions. Corrie ten Boom said, "If the devil cannot make us bad, he will make us busy." Satan creates all sorts of distractions to keep us from studying our Bibles, attending church, and praying. He will do anything to keep us from realizing that Jesus already defeated him at the cross (Colossians 2:15) and that we can overcome his schemes (Ephesians 6:11).
Some struggles have physical solutions. We might reduce our fatigue by getting more rest or improve our spirits by enjoying the company of loved ones. But if we're not careful, Satan moves the battle to the spiritual realm. He waits for a moment of weakness and then tells us we're alone in the struggle. As worry fills our heart, we wonder how we will ever meet the deadline, restore that relationship, or pay all the bills. Fear and anxiety grow to the point that they seem like unavoidable realities.
Claiming the Promise of Prophecy
God wants you to understand His plans and live in hope!
Nothing could be further from the truth. We can be confident that "He who has begun a good work in [us] will complete it until the day of Jesus Christ" (Philippians 1:6). Psalm 121 describes God as a helper, a keeper, and the preserver of our soul. "He will not allow your foot to be moved…. The Lord shall preserve you from all evil; He shall preserve your soul. The Lord shall preserve your going out and your coming in from this time forth, and even forevermore" (Psalm 121:3, 7-8). God never leaves us helpless.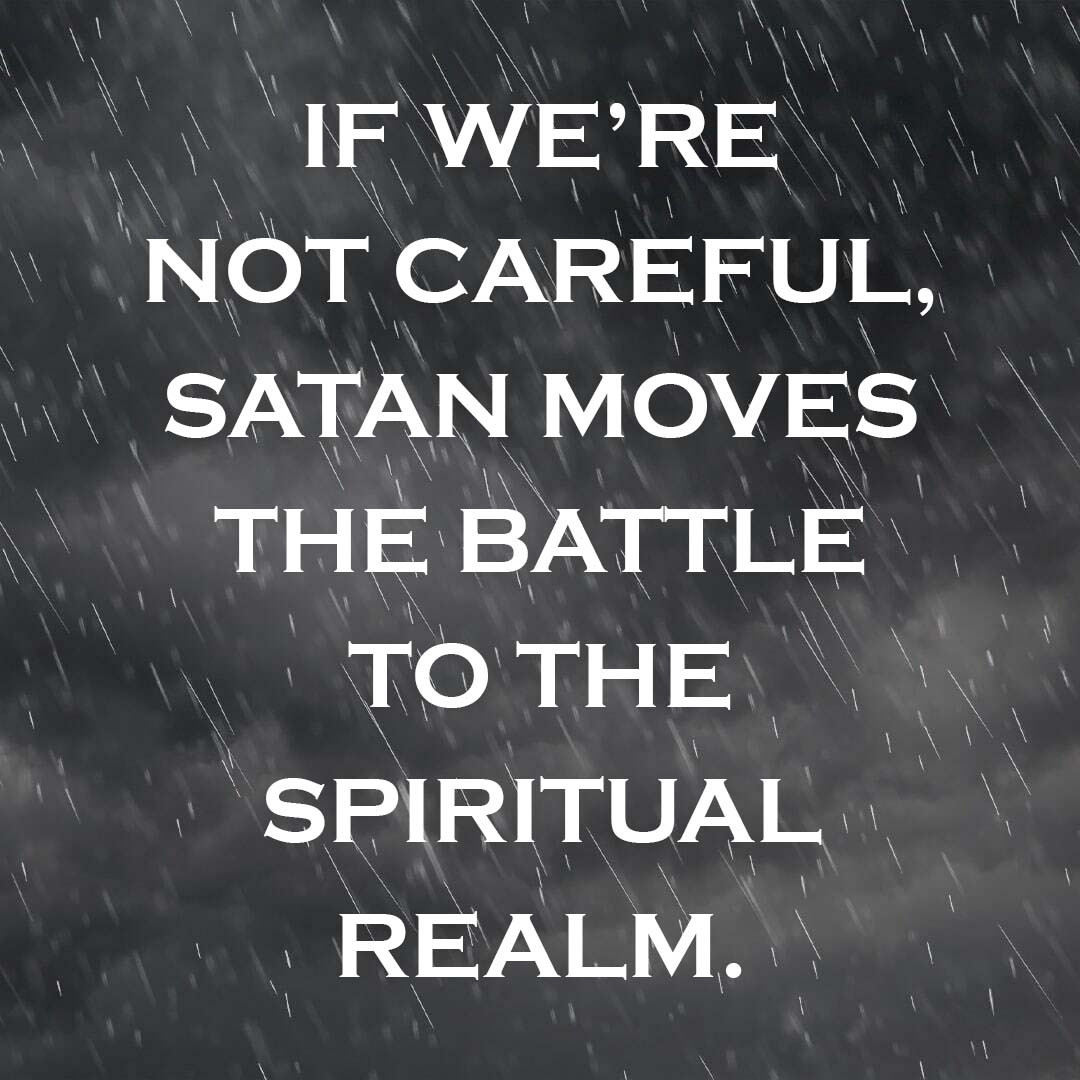 Satan's Playbook: 8 Spiritual Attacks
In addition to assurances of God's love and support, the Bible promises that God will equip us to overcome the enemy's schemes.
Fatigue.
For generations, the nation of Israel rebelled against God. Eventually, He withdrew His protection and allowed the Babylonians to carry them into exile. The people quickly lost heart. When they complained that God was no longer concerned about their welfare, He sent a prophet named Isaiah to assure them. Isaiah asked the people, "Why do you say, O Jacob, and speak, O Israel: 'My way is hidden from the Lord, and my just claim is passed over by my God?' Have you not known? Have you not heard? The everlasting God, the Lord, the Creator of the ends of the earth, neither faints nor is weary. His understanding is unsearchable. He gives power to the weak, and to those who have no might He increases strength" (Isaiah 40:27-29).
Have you lost heart? Do you feel as if God has forgotten you? Rest assured, when you are at the end of your rope, God is just getting started. Just as He delivered Israel from Babylon, Almighty God will give you strength to endure your trials.
Anxiety.
Proverbs 12:25 says, "Anxiety in the heart of man causes depression, but a good word makes it glad." The apostle Peter offered a good word just before the verse that describes Satan as a prowling lion. He said, "Humble yourselves under the mighty hand of God, that He may exalt you in due time, casting all your care upon Him, for He cares for you" (1 Peter 5:6-7).
What is the key to living in God's presence? Humility. When we understand that we are powerless to face Satan in our own strength, we begin to grasp the depth of our need for God. And if we are feeling overburdened, there is an excellent chance we are hanging on to responsibilities that aren't ours to bear. They belong to God.
Stress.
The Bible does not mention stress, but it has plenty to say about stressful situations. King David was someone who faced many trials. He fought wild animals, a giant, and a king as a young man. Later in life, his own son attempted to assassinate him. Although God did not remove the stressful situations from David's life, He sustained David through them. And Scripture promises that God will do the same for us. In Psalm 55:22, David wrote, "Cast your burden on the Lord, and He shall sustain you; He shall never permit the righteous to be moved."
Our part in the matter is to trust God's promises and rely on His loving kindness. When Satan attacks, may we join King David in saying, "The Lord is my strength and my shield; my heart trusted in Him, and I am helped; therefore my heart greatly rejoices, and with my song I will praise Him" (Psalm 28:7).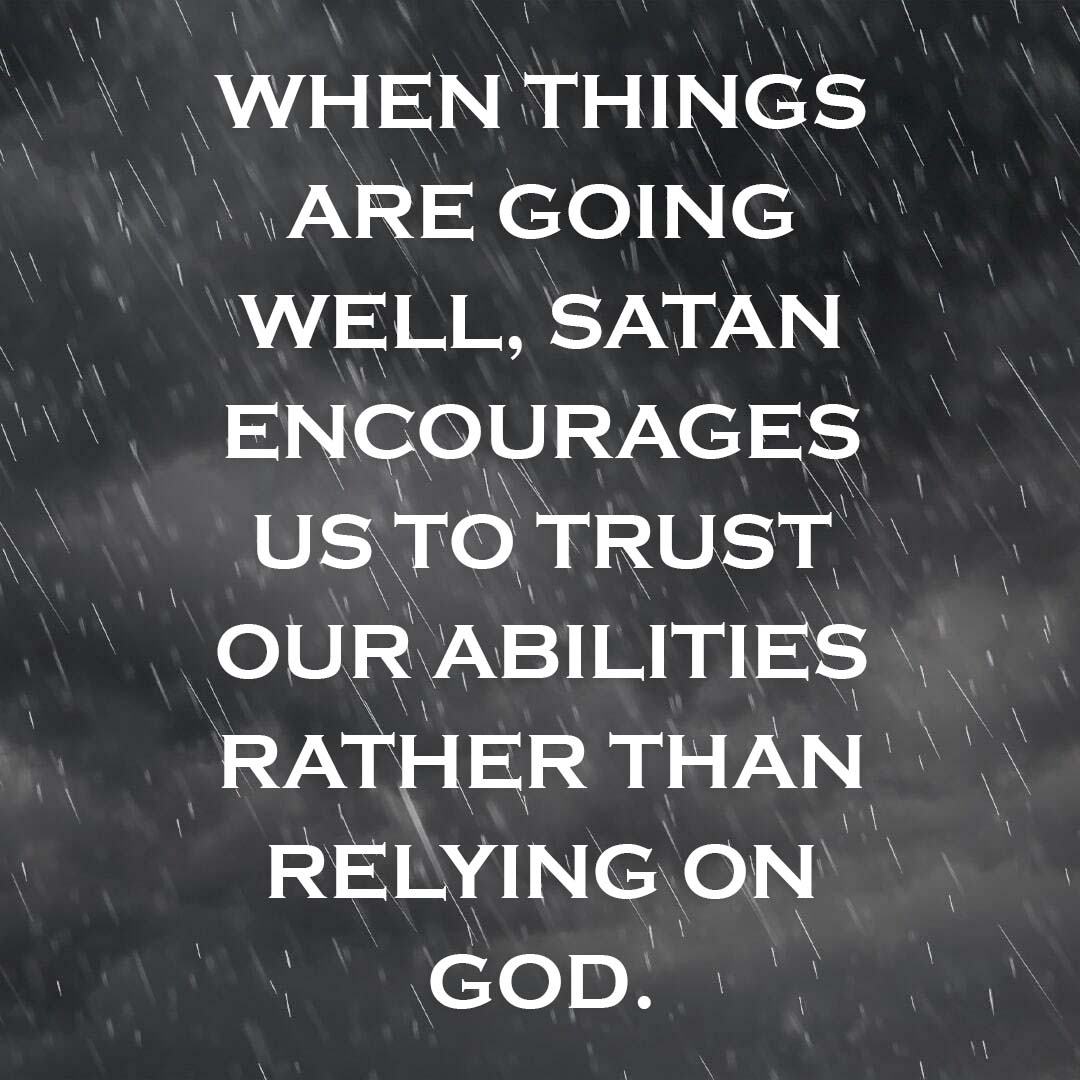 Temptation.
Success often presents a greater danger than trouble. When things are going well, Satan encourages us to trust our abilities rather than relying on God. Proverbs 16:18 says, "Pride goes before destruction, and a haughty spirit before a fall." It is the oldest play in the enemy's book. He convinced Eve to eat forbidden fruit by telling her it would open her eyes, and she would "be like God, knowing good and evil" (Genesis 3:5). Our weaknesses may be different from Eve's, but the tactic is the same: Satan appeals to our desires.
For this reason, Paul warns, "Let him who thinks he stands take heed lest he fall. No temptation has overtaken you except such as is common to man; but God is faithful, who will not allow you to be tempted beyond what you are able, but with the temptation will also make the way of escape, that you may be able to bear it" (1 Corinthians 10:12-14). With a humble heart and God's guidance, we can withstand temptation.
Fear.
The only thing we have to fear is… God. Wars cannot be won without bravery, but President Roosevelt's famous speech overlooked a crucial factor. Jesus instructed His disciples not to "fear those who kill the body but cannot kill the soul. But rather fear Him who is able to destroy both soul and body in hell" (Matthew 10:28).
The disciples had more reason to be afraid than most. Those complicit in Jesus' death actively hunted down His followers. How could Jesus expect them not to be frightened? Because He also said, "I will never leave you nor forsake you" (Hebrews 13:5). Their greatest adversaries were no match for the King of kings and Lord of lords. This truth gave them the courage to respond, "The Lord is my helper; I will not fear. What can man do to me?" (Hebrews 13:6)
If you feel overwhelmed, shift your focus from the problem to the solution. In the midst of your struggle, Jesus is standing beside you. He will never abandon you, and nothing is impossible for Him (Mark 10:27).
Despair.
When Paul wrote his second letter to the Corinthian church, he had endured five lashings, three beatings, a stoning, three shipwrecks, frequent imprisonments, and more (2 Corinthians 11:23-27). To make matters worse, false teachers in the church were slandering him and questioning his credentials as an apostle. Under such pressure, many believers would have doubted their calling or God's goodness. But Paul did not waver. He explained, "We are hard-pressed on every side, yet not crushed; we are perplexed, but not in despair; persecuted, but not forsaken; struck down, but not destroyed" (2 Corinthians 4:8-9, emphasis added).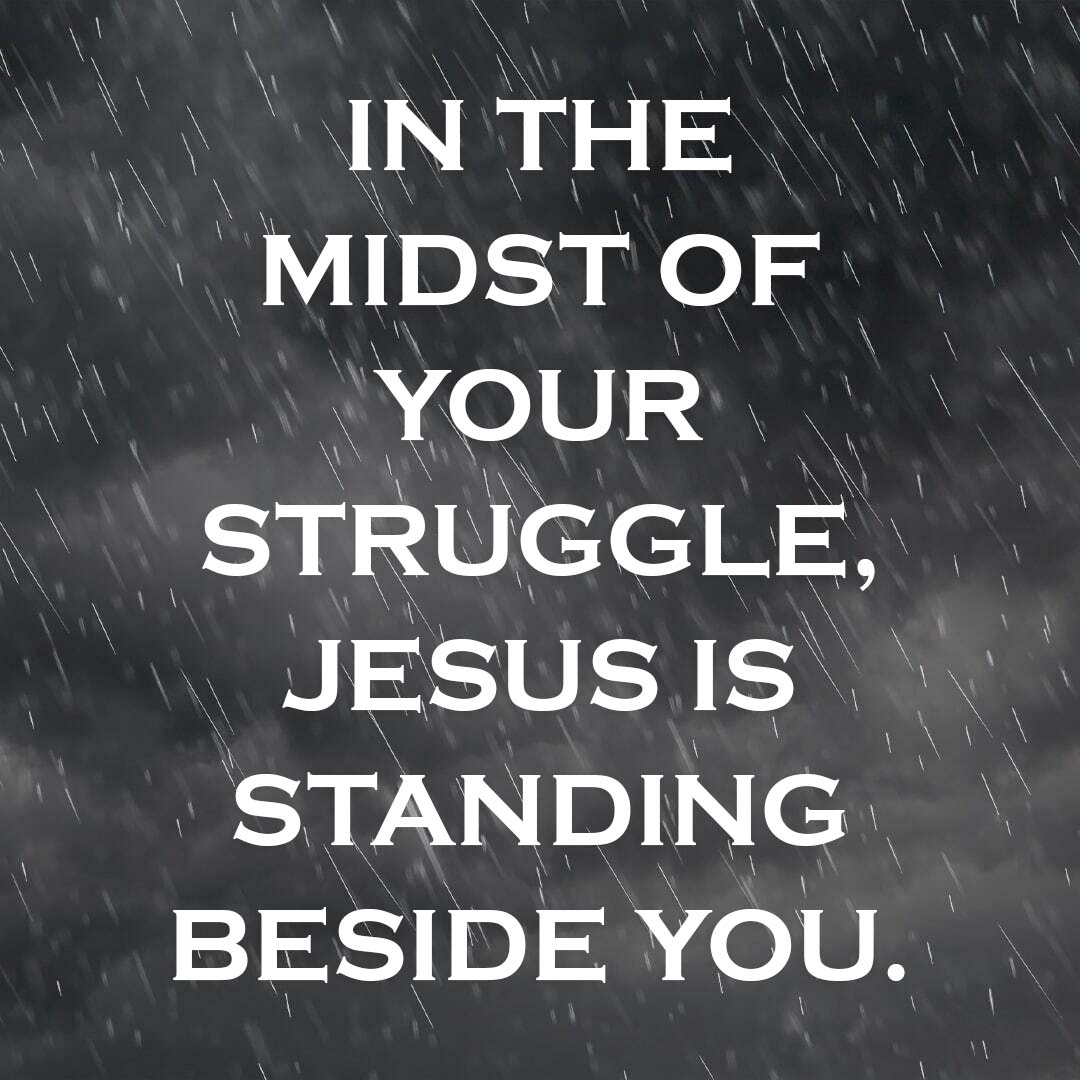 Becoming a Christian does not mean our trouble ends. As Paul testified, it often intensifies. Even so, faith assures us of ultimate victory in the form of eternal salvation through Christ Jesus. We may not see the purpose behind our pain, but we can trust the Lord to shine through our brokenness. His grace is sufficient, and His "strength is made perfect in weakness" (2 Corinthians 12:9).
Lies.
Luke 4 records one of the most vivid accounts of spiritual warfare anywhere in Scripture. While Jesus was fasting in the wilderness, Satan tempted him three times. There are many rich lessons we can draw from this passage, but let's focus on the third temptation in verses 9-12:
Then he [Satan] brought Him [Jesus] to Jerusalem, set Him on the pinnacle of the temple, and said to Him, "If You are the Son of God, throw Yourself down from here. For it is written: 'He shall give His angels charge over you, to keep you,' and, 'In their hands they shall bear you up, lest you dash your foot against a stone.'"
And Jesus answered and said to him, "It has been said, 'You shall not tempt the Lord your God.'"
Satan's attack began with an assault on Jesus' identity as the Son of God. From there, he tried to erode Jesus' dependence on God. And did you catch what he did next? Satan tempted Jesus to sin by quoting Scripture (Psalm 91:11-12). While his recitation was accurate, his application was not. Instead of fabricating an out-and-out lie, Satan attacked Jesus' relationship with the Father and distorted biblical truth.
We don't have to look far to find this tactic at work in our world today. Many sincere Christians have wandered from sound doctrine by accepting partial truths and doubting their relationship with God. Our best hope for resisting Satan is to respond as Jesus did and anchor our thoughts in Scripture. In the words of the apostle Paul, "We use God's mighty weapons, not worldly weapons, to knock down the strongholds of human reasoning and to destroy false arguments" (2 Corinthians 10:4, NLT).
Ephesians 6:14 commands us, "Stand therefore, having girded your waist with truth." Earlier, Paul wrote that "the truth is in Jesus" (Ephesians 4:21). The truth we stand on—the truth of who God is, what Jesus did for us, and who we are in Christ Jesus—is meant to permeate everything we do. In the battle for our minds, we can refute Satan's lies.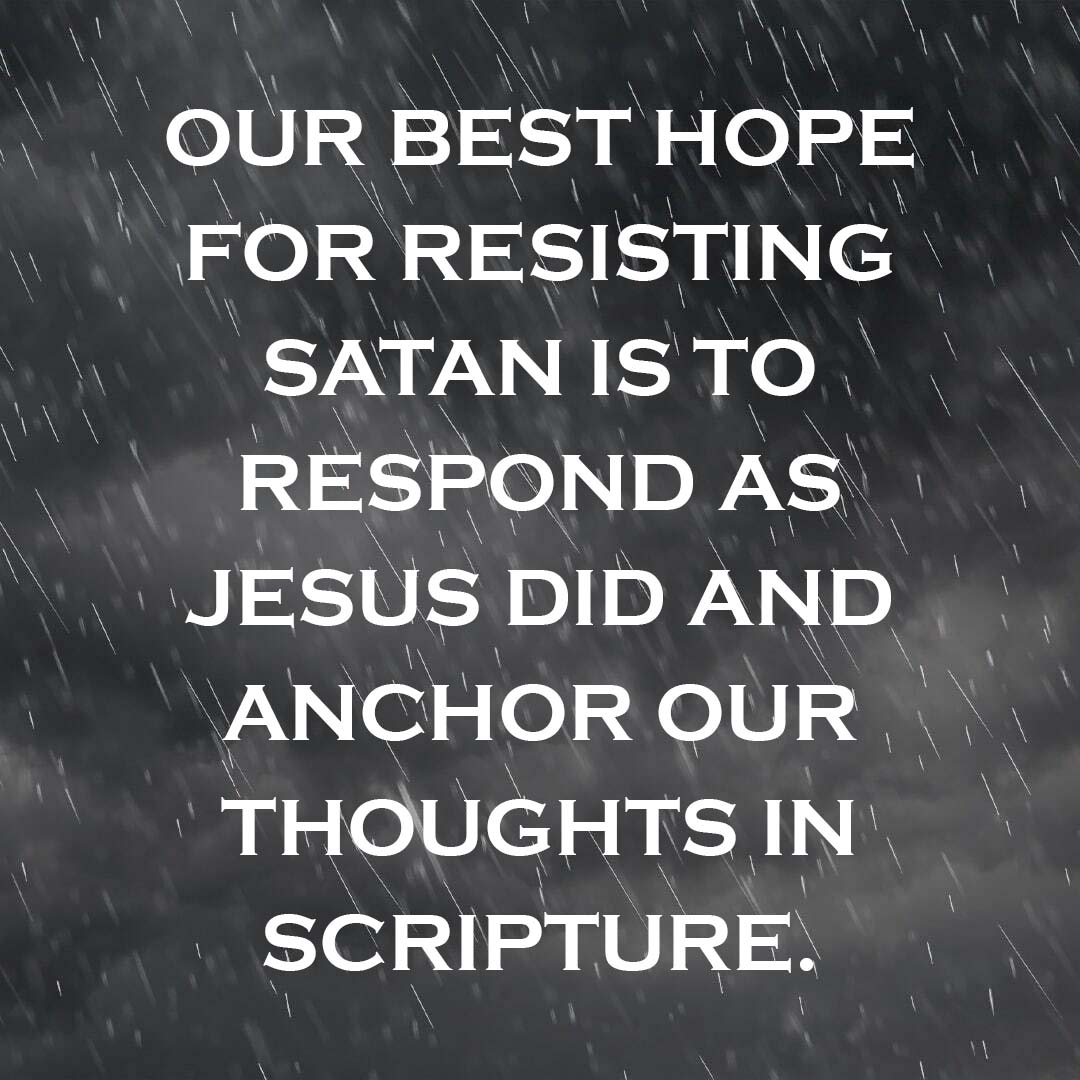 Revenge.
Have you ever watched a movie or a play in which a character seemed to be getting away with such a grave injustice that you could hardly wait for the offender to get his due? Travesties of justice stir the emotions. They create momentary, knee-jerk reactions that stoke our longing for revenge.
The biblical writers were not immune to this struggle. Throughout the psalms, David cried out to God against injustice. On one occasion, he said, "Arise, O Lord, confront him, cast him down; deliver my life from the wicked with Your sword" (Psalm 17:13). In other words, "God, take him out!" But David was far from blameless. When he fell for Bathsheba, David sent her husband—one of his most faithful soldiers—to certain death (2 Samuel 11:15, 17).
Sometime later, God confronted David through a prophet named Nathan. As you might imagine, Nathan was reluctant to rebuke his king, so he started the conversation with a parable about a rich man who mistreated a poor man (2 Samuel 12:1-4). Not realizing he was the rich man, David became incensed and said, "As the Lord lives, the man who has done this shall surely die! And he shall restore fourfold for the lamb, because he did this thing and because he had no pity" (2 Samuel 12:5-6).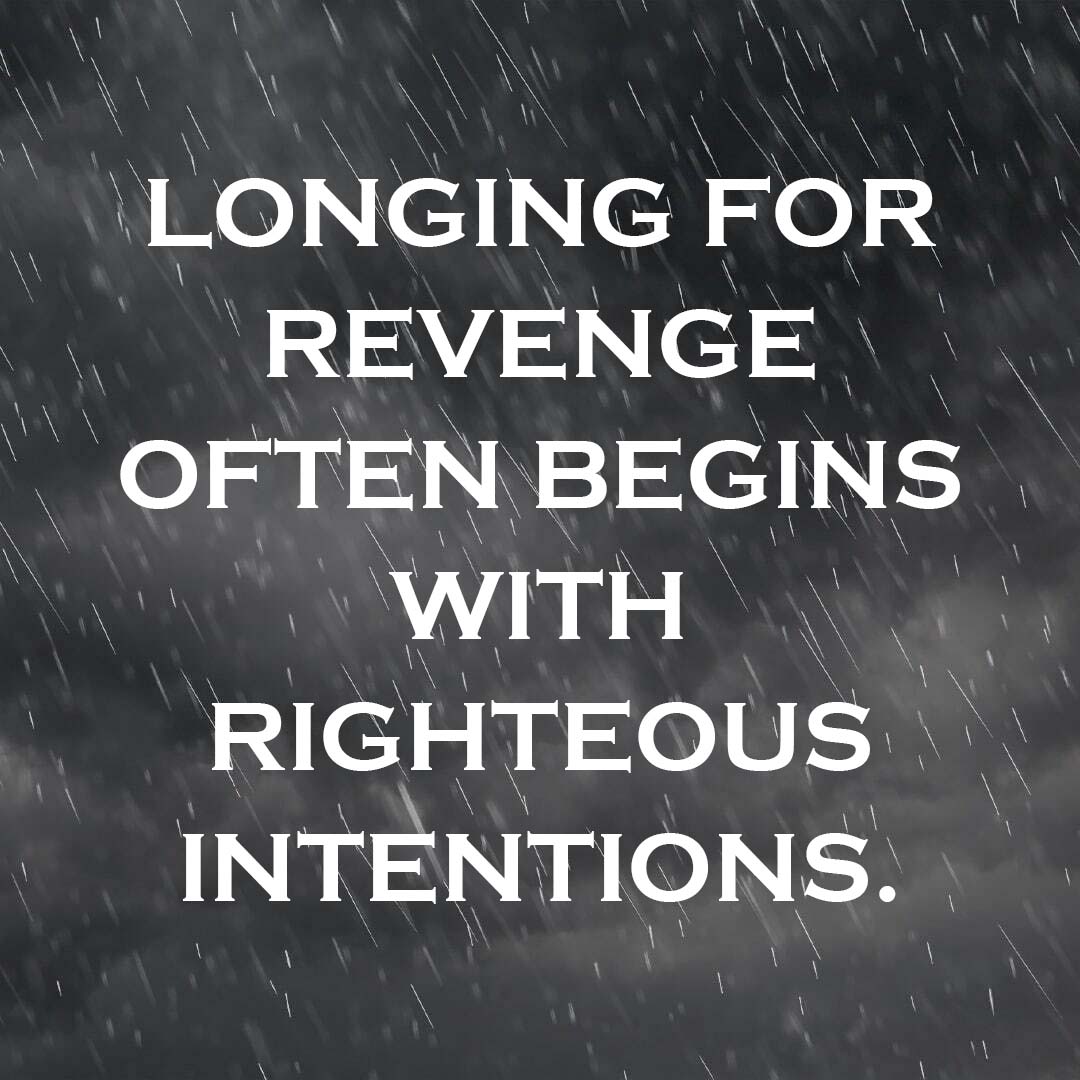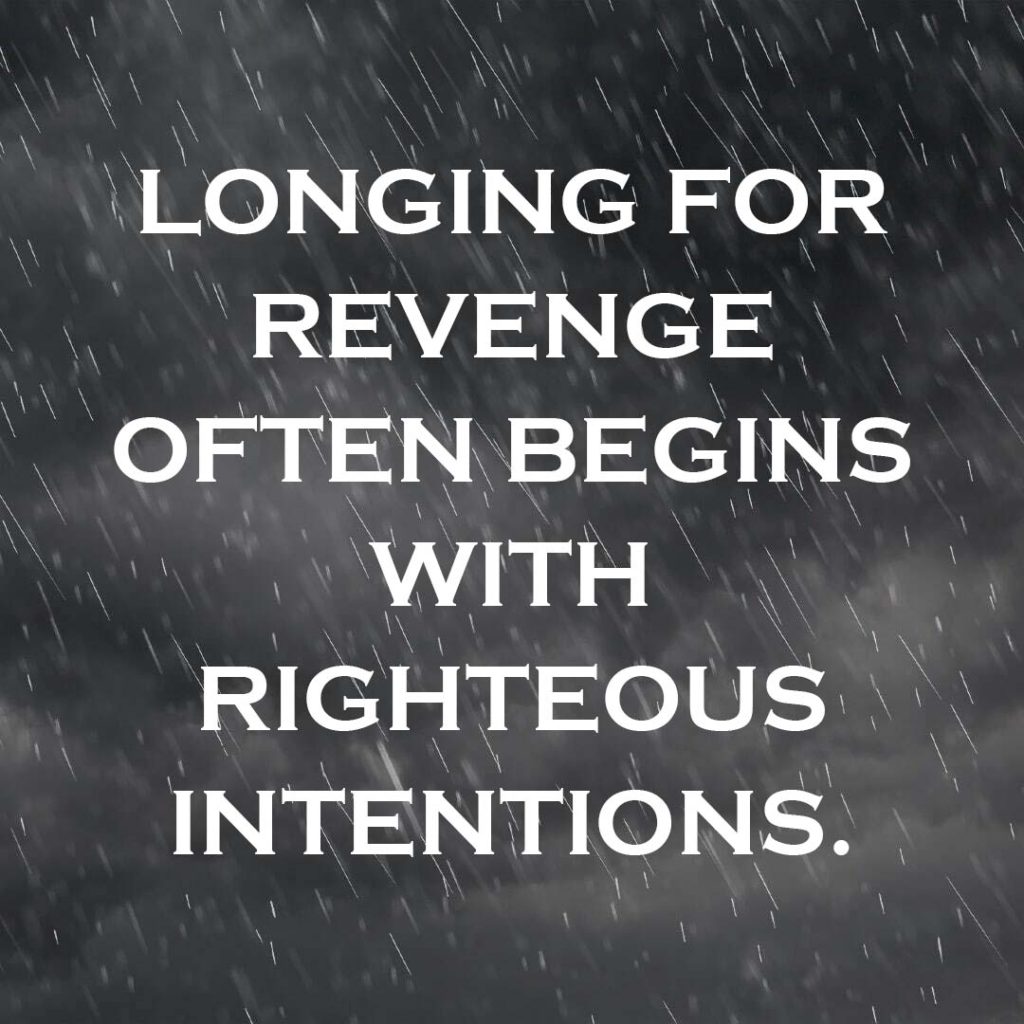 David's response teaches us something about our desire for vengeance: We deal much more severely with others than we would deal with ourselves. Like many of Satan's other schemes, longing for revenge begins with righteous intentions—we don't want to see abuses of power or stand by as innocent people get hurt. The danger comes when we attempt to stand in God's place and exact vengeance on our own terms. Scripture says, "Beloved, do not avenge yourselves, but rather give place to wrath; for it is written, 'Vengeance is Mine, I will repay,' says the Lord" (Romans 12:19).
Our Protection: The Truth of Scripture
When spiritual battles mount, Scripture is our first line of defense. It contains the mind of Christ between two covers. John's Gospel says, "And the Word [Jesus] became flesh and dwelt among us, and we beheld His glory, the glory as of the only begotten of the Father, full of grace and truth" (John 1:14). Later, Jesus told His disciples, "I am the way, the truth, and the life. No one comes to the Father except through Me" (John 14:6).
By standing squarely on the truth of who God is and who we are in Christ, we can resist the enemy's attacks. Christ Jesus has already claimed victory, and He will not leave us defenseless. In the words of 2 Peter 2:9, "The Lord knows how to deliver the godly out of temptations." When we walk in Truth, we gain the power to overcome deceptions like fatigue, anxiety, stress, temptation, fear, despair, lies, and revenge.
Sources:
1 John Wesley, A Plain Account of Christian Perfection, (Kansas City, MO: Beacon Hill Press of Kansas City, 1966), 110.
Continue your study of spiritual warfare with these other articles by David Jeremiah: