Most of us will never see an angel nor a demon as long as we walk this earth. These spirit beings live in heavenly realms, tending to matters outside of our sphere of experience. Supernatural appearances are rare, yet throughout history, there have been fascinating stories of angel encounters and terrifying tales of demonic activity. Some of these stories reek of self-serving sensationalism while others are perfectly plausible.
The late Reverend Billy Graham recalled his grandmother's jubilant description of a heavenly scene, just before her passing, that included Jesus, her deceased husband, and…angels. Many overseas missionaries have reported angelic protection from certain death. For instance, John G. Paton credits angels with delivering him and his wife from an attack by hostile natives in the South Pacific. Missionaries also routinely find themselves on the front lines of spiritual warfare in cultures where demonic activity is rampant.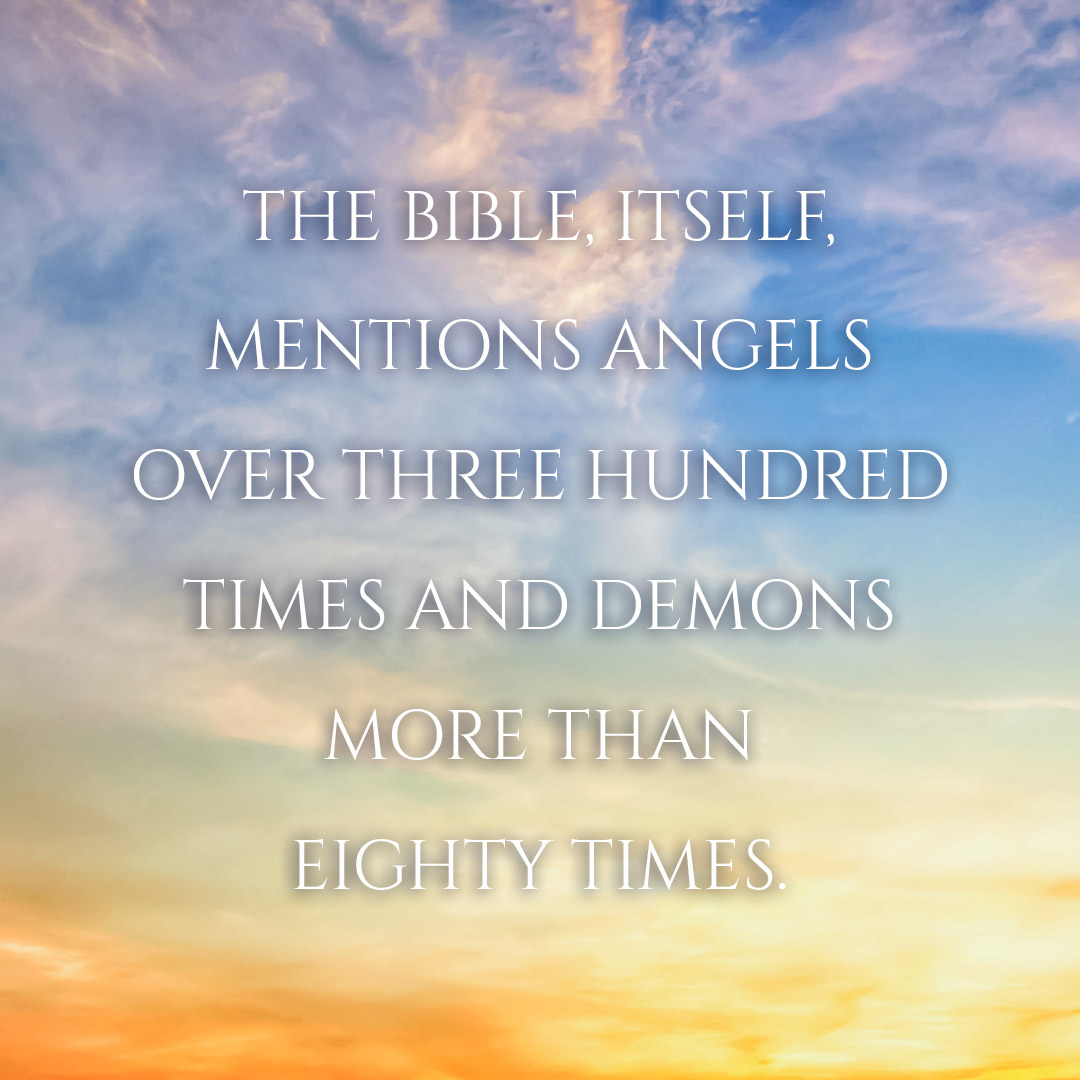 The Bible, itself, mentions angels over three hundred times and demons more than eighty times. I could go on, but I believe you get the point. Angels and demons are all around us, often unseen, sometimes surprisingly apparent, and they do intercede in the affairs of mankind.
The question, then, is not whether angels and demons are real, for I can assure you they are. The questions we must answer are:
What are angels? What do they do? What are demons? Who do they work for, and what do they do? Finally, what does all of this have to do with me?
5 Attributes of Angels
Let's start with angels. We have established that they are real. I can also tell you that all angels share common characteristics which set them apart from other beings, and we'll talk about those qualities. Within the context of these commonalities, angels have individual, unique personalities and names. Gabriel and Michael are two that are named in Scripture. Finally, angels have clearly defined roles.
Attribute #1: Angels Are God's Creations
The Genesis account of creation reveals God's orderly design for the physical and spiritual world, and the literary masterpiece that is Psalm 104 gives further insight into the origins of angels. According to verse 4, the next act after God's creation of space, time, and cosmos is the creation of angels, probably on day two. Immediately after the creation of angels, according to the psalmist, God laid the foundation of the earth (verse 5).
A careful analysis of Scripture informs us that all angels came into existence at once. Just as God spoke the planets, land, plants, and animals into being, He spoke the angels into being. So, angels are created beings. This has immense implications for us as we seek to understand them.
Attribute #2: Angels Have Limitations
As real beings created by God, angels are subject to God's authority and power, and their power has limits. The ninth and tenth chapters of the book of Daniel illustrate some of these limitations. In Daniel 9:21, the angel Gabriel appears before Daniel because of Daniel's earnest prayers for his people. This verse specifies Gabriel had been caused to "fly swiftly" because of Daniel's petition, which stipulates that angels can only be in one place at a time; they are not omnipresent.
In verse 23, Gabriel explains, "At the beginning of your supplications the command went out, and I have come to tell you…." Did you catch that? Gabriel didn't hatch a plan to go visit Daniel; Gabriel was commanded to go call on Daniel in response to his prayerful petitions.
Attribute #3: Angels Are Subject to God's Authority
Moving down in the text, Daniel is visited by a second angel, whose name is not disclosed, in chapter 10. This angel explains that he would have come sooner, but he was waylaid for 21 days by the "prince of the kingdom of Persia," and he required the assistance of Michael, the archangel, to overcome this prince. The angel spent three weeks earnestly attempting to visit Daniel, but he lacked the power to overcome the prince of Persia.
Attribute #4: Angels Are Not Omnipotent
In the context of our culture that is enthralled with angelic activity, we must keep sight of this fundamental truth: angels are limited to the power and authority granted them by Almighty God.
Attribute #5: Angels Are Spirit Beings
Angels are spirit beings who are often invisible, but their presence may be made manifest in human form, in dreams and visions, in their natural state, or audibly without a visible form.
To illustrate this point, it's helpful to contrast Daniel's angel encounter in Daniel 9 with his experience in Daniel 10. When Gabriel appears in Daniel 9:21, he is described as a man. Daniel goes on to have a pleasant conversation with Gabriel, and there is no indication that Daniel is at all intimidated by Gabriel's presence. It's as if two peers are discussing the politics of the day, albeit one has profound prophetic insight.
Then, flipping forward to chapter 10, Daniel encounters an unnamed angel, trembles in his presence, and describes him in a way that is completely unlike any human. Here is his description:
I lifted my eyes and looked, and behold, a certain man clothed in linen, whose waist was girded with gold of Uphaz! His body was like beryl, his face like the appearance of lightning, his eyes like torches of fire, his arms and feet like burnished bronze in color, and the sound of his words like the voice of a multitude

Daniel 10:5-6
So, angels appear as humans and in their natural state. They have also been known to appear in visions. Genesis 28 and 31 record prophetic dreams the Lord gave to Jacob in which he saw angels.
In the New Testament, Mary's husband, Joseph, repeatedly encountered angels who instructed him regarding Mary and Jesus while he was dreaming. It doesn't particularly matter whether these angels appeared in human or angelic form; Jacob and Joseph clearly recognized them as angels.
Yet another demonstration of angelic activity is recorded in 2 Samuel 5:22-25 when the Lord allowed David and his men to hear angels "marching in the tops of the mulberry trees" as a sign to move quickly. In this case, David did not see angels; he only heard them.
Regardless of how angels may appear, the important point to remember is this: their presence is revealed selectively and strategically.
Often, angels work in unseen ways because it doesn't serve God's purpose for us to perceive their presence. In fact, the angel mania that routinely engrosses our collective conscience is likely why God chooses to conceal their presence most of the time. If men like Daniel tremble (Daniel 10:8) and men like the apostle John worship (Revelation 19:10) at the sight of angels, how much more likely are we to respond improperly to their manifest presence?
God only opens our eyes to behold angels when it serves His purposes.
Perhaps the most comical example of God revealing an angel's proximity is found in Numbers 22. In this passage we see the wicked prophet Balaam engaging in dirty business with Moab's king who fears the approaching Israelites. The king wants Balaam to curse Israel so that they will not encamp near him. Balaam hesitates to curse the nation, but he decides to make some money off the deal by divining on behalf of Moab and traveling to visit their king. This angers the Lord, so He sends the Angel of the Lord to block Balaam's path.
Balaam is unable to see the angel, but his donkey sees him plainly. She stops in her tracks and huddles against a wall, crushing Balaam's foot. After Balaam beats the donkey three times, Scripture says that God opened her mouth and she began to speak to him! Balaam laments that he doesn't have a sword with which to kill the donkey, and then—it happens.
Numbers 22:31 says, "Then the Lord opened Balaam's eyes, and he saw the Angel of the Lord standing in the way with His drawn sword in His hand; and he bowed his head and fell flat on his face." The story continues with Balaam's repentance and, I believe, a new respect for angels. Now I don't know about you, but I think I would have enjoyed watching that interlude! God had a purpose in revealing His angel to Balaam.
Spirits of Wind, Fire, and Stars
Returning to Psalm 104, we see a fascinating description of angels in verse 4: "[O Lord my God], Who makes His angels spirits, His ministers a flame of fire." Unshackled by human limitations, these spiritual beings slip through the grip of gravity and transcend to heavenly realms with all the ease of fire. Wind and fire may be the best substances on earth to help us mortals understand the spiritual make-up of angels.
Are angels made of stardust?

Much has been made in recent years about mankind being made of stardust. The refutation of that erroneous sentiment would fill a book, let alone this article, but let me tell you this: Scripture hints that the substance of angels is more like that of stars—orbs of fire—than anything else. In Job 38:4-7, God asks: "Where were you when I laid the foundations of the earth…when the morning stars sang together, and all the sons of God shouted for joy?"

Assuming this passage refers to the third day of creation, the "morning stars" could not be the same stars we view in the night sky because those stars weren't created until the fourth day. More likely, the "stars" described here are angels, singing over the works of God.
In both Hebrew and Greek, the words for "spirit" can also mean "breath" or "wind." The Old Testament frequently describes strong winds blowing in connection with God's judgment. Considering the passage below, see if you can imagine God sending angels as "wind":
When you cry out, let your collection of idols deliver you. But the wind will carry them all away, a breath will take them. But he who puts his trust in Me shall possess the land, and inherit My holy mountain.

Isaiah 57:13, emphasis added
As early as the cherubim who guarded the gates of Eden with "a flaming sword which turned every way" (Genesis 3:24), Scripture repeatedly associates angels with fire. Angelic fire consumed sacrifices in Judges 6 and 13. Both Ezekiel and Daniel described angelic beings with fiery features "like burning coals of fire or like the appearance of torches," a face "like lightning," and eyes "like torches of fire" (Ezekiel 1:13, Daniel 10:4-6). In Revelation 14:18, John envisioned "another angel, who had power over fire."
Where do angels get all that fire?
Hebrews 12:29 states, "Our God is a consuming fire." God uses smoke and fire to get our attention. He descended in fire on Mount Sinai (Exodus 19:18). The Lord once promised to be "a wall of fire around [his people]" (Zechariah 2:5). And we look forward to a time "when the Lord Jesus is revealed from heaven in blazing fire with his powerful angels" (2 Thessalonians 1:7, NIV).
Fire is God's tool: He makes it the property of angels and sometimes the portrait of angels.
4 Purposes of God's Angels
Having looked at the real, created, limited, spirit nature of angels, let's evaluate the practical purposes behind God's creation of angels. Scripture separately delineates cherubim from seraphim, and biblical accounts reveal different roles for Gabriel and Michael. Different angels serve different purposes. However, viewing all revealed angelic activity with a wide lens, we can identify four broad roles that they fulfill:
Angels are messengers, ministers, warriors and worshipers.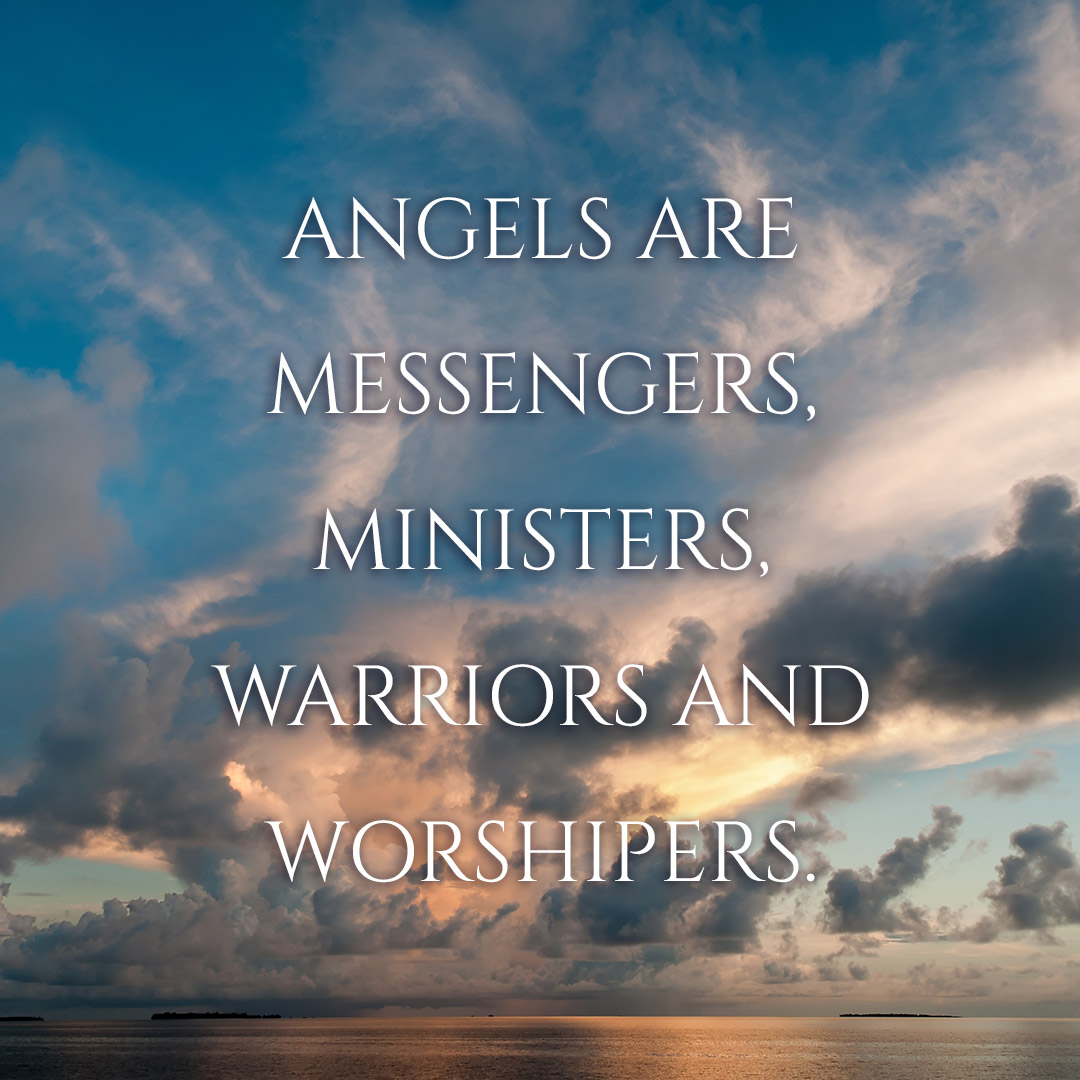 Role #1: Angels Are Messengers
Our English word angel translates as the Hebrew word mal'ak in the Old Testament and the Greek word angelos in the New. The core meaning of both those words is messenger. That's the essence of who and what angels are. They are couriers for Someone other than themselves. They're Someone else's ambassadors, Someone else's agents. They represent only Him and never themselves. They are channels to carry only His information. They speak and act according to His instructions, and they bear His authority.
As messengers, angels communicate God's law to mankind (Galatians 3:19, Acts 7:53). They are holy beings who have always obeyed God perfectly. In fact, they probably understand God's law for mankind better than any biblical scholar ever has. It was the Angel of the Lord who spoke to Moses through a burning bush in Exodus 3:2, and it was an angel of the Lord who proclaimed the coming of the promised Messiah in the New Testament.
Throughout human history, angels have been involved with communicating God's most important messages to His people.
Role #2: Angels are Ministering Spirits
The role angels play as ministering spirits is perhaps the most comforting aspect of their nature.
Hebrews 1:14 explains their ministry this way, "Are they not all ministering spirits sent forth to minister for those who will inherit salvation?" Other passages of Scripture provide vivid examples of angelic ministry.
In 1 Kings 19:5, an angel appeared to Elijah when he was fleeing from Jezebel in great despair. The angel provided life-giving food and water that sustained him for forty days and nights. After Jesus Christ was tempted by the Devil in Matthew 4, Scripture states that angels came and ministered to Him. The Greek word translated "ministered" implies that they fed Him.
In Luke 16, Jesus tells a parable that introduces the idea of angels ministering to mankind by carrying God's children home to heaven. Other passages are less descriptive but point to this truth with phrases including "carried up into heaven," "received up into heaven," and "taken up" (Luke 24:51, Mark 16:19, Acts 1:9).
As if the blessed assurance of our salvation weren't enough, God provides angels to transport our loved ones home. Praise God for these ministering spirits!
Role #3: Angels are Warriors
While the idea of angels ministering to our needs is deeply comforting, the thought of angels as supernatural warriors might be downright concerning—unless you study it carefully. Our modern military protects the nation from invasion and is comprised of specialists who work together to strategically outwit aggressors. It is similar with angels.
As soldiers battling for eternity, angels wage war with the enemies of God's people, both seen and unseen.
Throughout Scripture, we find story after story of God's people emerging victoriously from physical and spiritual battles as they face insurmountable odds. It was angelic visitors who ushered Lot out of Sodom before destroying it (Genesis 19). It was angelic guards who went ahead of the Israelites, protecting them as they departed Egypt and entered Canaan (Exodus 14-32). It was the Angel of the Lord who killed 185,000 Assyrian soldiers in 2 Kings 19. And when our risen Lord rides into the Battle of Armageddon, He will be followed by armies of angels (Revelation 19:11-14).
Psalm 34:7 summarizes it this way, "The angel of the Lord encamps all around those who fear Him, and delivers them." I don't know about you, but I'm sure glad we have these warriors on our side!
As tactical experts, angels guide God's people.
Turning to Genesis 31, we find Jacob in the middle of a colorful predicament. His uncle Laban was growing resentful because God had undermined his own deceit by playing a trick on him. Laban had changed Jacob's wages ten times, trying to swindle him. When Laban told Jacob that his wages were based on speckled livestock, God caused all the new flocks to be born with speckles. When Laban changed Jacob's wages to streaked livestock, all the flocks were born with streaks.
And on the story goes. In case Jacob has any doubts as to the mastermind behind this selective breeding program, Scripture tells us the Angel of God appeared in Jacob's dreams and confirmed God's role (Genesis 31: 10-13). God's people do not have to worry about outcomes; they must only worry about obedience to God's plans.As provisioners, angels equip God's people for victory.
There are many more examples of angelic guidance in Scripture. The story of Balaam in Numbers 22, which we've already examined, is another. After the talking donkey episode, Scripture indicates in verse 35 that the Angel of the Lord gave Balaam very specific instructions: "Go with the men, but only the word that I speak to you, that you shall speak."
Jumping ahead to the New Testament, an angel gave Jesus' earthly father, Joseph, specific instructions to protect young Jesus and his mother: "Arise, take the young Child and His mother, flee to Egypt, and stay there until I bring you word; for Herod will seek the young Child to destroy Him" (Matthew 2:13).
In Acts 10, an angel gave the Roman Centurion Cornelius a message that changed the trajectory of Simon Peter's earthly ministry. The angel instructed Cornelius to send for Peter, which he did. In the meantime, God gave Peter a vision to prepare his heart for witnessing to Gentiles. When the two met, Peter shared the Good News, and "the Holy Spirit fell upon all those who heard the word" (Acts 10: 44). God does not always use angels to guide His people, but when He does, we'd better listen.
As provisioners, angels equip God's people for victory.
Sometimes God protects His people by sending one of His angels to meet our physical needs. The story of Hagar in Genesis 21 is one such story. After being cast out of Abraham's household on account of Sarah and Isaac, we find Hagar and her son, Ishmael, wandering in the wilderness without adequate water.
In verse 16, Hagar loses heart and determines to wait for her son to die, but the Angel of God calls to her out of heaven and says, "What ails you, Hagar? Fear not, for God has heard the voice of the lad where he is. Arise, lift up the lad and hold him with your hand, for I will make him a great nation" (verses 17-18). Then, Scripture tells us God opened her eyes to a well of water. In this case, the angelic messenger prepared Hagar to receive God's provision.
The angels' role of equipping is closely tied to their role as ministering spirits.
Looking back to the example of Elijah fleeing from Jezebel in 1 Kings 19, the Angel of the Lord ministered to Elijah by equipping him with the rest and nourishment he needed to complete his ministry. In the Garden of Gethsemane, just after Christ's famous prayer, "Father, if it is Your will, take this cup away from Me; nevertheless not My will, but Yours, be done" (Luke 22:42), Luke tells us that an angel appeared to Jesus from heaven and strengthened Him.
Scripture never lets God's people off the hook for following Him in obedience. Exhaustion, unfavorable odds, and despair do not change His plans, but He equips His people throughout their trials and ministers to them.
God supplies our every need so that we may be courageous and victorious, and sometimes He dispatches His angels to do the equipping.
Role #4: Angels Are Worshipers
When angels are not ministering to mankind, they live in the presence of God, continually shouting and singing praises to Him.
The book of Revelation provides some of the richest scenes of heavenly worship available to us, in which we observe angels demonstrating their reverence for God. Revelation 4:8 describes living creatures who do not rest day or night; rather, they proclaim, "Holy, holy, holy, Lord God Almighty, Who was and is and is to come!" This fervent adulation prompts 24 elders to fall down before the Lord, cast their crowns before His throne, and say, "You are worthy, O Lord, to receive glory and honor and power; for You created all things, and by Your will they exist and were created" (Revelation 4:10-11).
We would do well to learn from the angels' example of worship. In all their beauty, God's angels keep no praise for themselves. The angel John encountered in Revelation 19 made this truth clear. Overcome by the angel's presence, John fell at his feet to worship him, but the angel rebuked him saying, "See that you do not do that! I am your fellow servant, and of your brethren who have the testimony of Jesus. Worship God! For the testimony of Jesus is the spirit of prophecy" (verse 10).
"I am your fellow servant, and of your brethren who have the testimony of Jesus." —Angel in Revelation 19
What Else Do We Need To Know About Angels? 5 Surprising Facts!
A thorough discussion of angels requires that we consider what they are not. We know that angels are real, created, spirit beings who serve God within limitations He sets for them. Here are a few important things they are not.
Fact #1: Angels Are Not Defined by Us
Because they are real, angels are not defined by our notions about them. There are some popular ideas about angels that simply aren't true.
Angels are commonly depicted as everything from chubby babies to demure, ivory-skinned women with wings. When someone dear to our hearts passes on, it's not uncommon to hear a family member say, "So-and-so is watching over us now." Or they'll say, "We haven't lost a person. We've gained an angel." Let me tell you, you can search Scripture from cover to cover, and you will find no such description.
Do you realize that every time Scripture describes angels, it uses masculine terms?
And, if you recall our examination of Psalm 104, you will recollect that angels were created on a different day than humans, and they were created all at the same time. Heaven does not gain angels. I'm sorry if it offends you, but angels are neither women nor babies nor departed loved ones; they are nothing other than supernatural masculine warriors unlike anything known to us in our material world.
Fact #2: Angels Are Not to Be Worshiped
Because they are created, angels must never receive our worship or our prayers. Most of us find the account of John's angel worship in Revelation 19 quite understandable. The sight of God's true angels must be awe-inspiring beyond anything we can imagine. This may be why they are invisible to us most of the time—to prevent us from sinning through angel worship.
By the same token, we should not pray directly to angels for help. The Bible gives no indication angels will respond if we pray directly to them for help. In fact, the Bible does not offer any examples of people asking God to send them an angel's protection. We must seek God alone, for He alone is worthy of our praise and prayers.
Fact #3: Angels Are Not Fully Understood
Because angels are spirit beings who inhabit a world we've not yet seen, we must choose to be comfortable with what we do not know about them. Scripture mentions them over three hundred times, so we are meant to know something about them. We are wise to study our Bibles as we seek a healthy understanding of angels. However, they should not consume our thoughts, and we should not envy others who may have dramatic encounters with them.
When I had cancer some years back, it would have been comforting to witness an angel watching over me or holding my hand as I was wheeled in to surgery. That never happened, and I'm a pastor!
If God never chooses to reveal angels' manifest presence to you or to me, it does not mean that we are inferior Christians.
It simply means that it would not suit His purposes. In His sovereignty, God reveals angels to us selectively and strategically.
Fact #4: Angels Are Not Our Servants
Because angels serve God, they do not serve us.
Matthew 6:24 explains that it is impossible to serve two masters. We've learned angels are God's messengers, and they serve Him in a variety of ways. Sometimes we are fortunate to be the recipients of angelic ministry, and Hebrews 1:14 makes it plain that ministering to God's children is their primary purpose. However, we must never imagine that they are our messengers.
The messages angels carry travel in one direction only—from the mouth of God to the intended recipient. Angels are not ours to control or to use. They are not available to satisfy our physical and emotional needs or our intellectual curiosity.
Fact #5: Angels Are Not Necessary
Because angels have limitations, they are not essential. Now, bear with me as I explain this one. When we consider that God is sovereign above all things—all circumstances, all people, all powers, all forces, all processes—it becomes apparent that He does not need angels. In the same way He was perfectly complete before the creation of man, God was perfectly complete before the creation of angels. After all, there is nothing He cannot do.
So, why would He create them?
The simplest answer is because it pleased Him to create them. Revelation 4:11 states, "You are worthy, O Lord, to receive glory and honor and power; for You created all things, and by Your will they exist and were created" (emphasis added). Other passages, particularly those we've studied in Revelation, make it clear that angels devote themselves to bringing Him glory and praise, which is part of their purpose. Yet, a final look at Hebrews 1:14 may give us the clearest picture of Almighty God's purpose in creating angels. Angels are "ministering spirits sent forth to minister for those who will inherit salvation."
Has this investigation into the supernatural world of angels challenged your thinking in some way? I hope so, and I hope you'll join me for part two in this series when we look at the counterparts of God's angels—the dark world of demons—and their impact on humanity.
Continue your study of angels, demons, and heaven with these other articles by David Jeremiah:
What happens when we die? Dr. David Jeremiah's landmark study on heaven pulls back the curtain on the most encouraging subject in the Bible:
Revealing the Mysteries of Heaven
.