Scripture's dominant theme is a simple one: God is the Divine Potter, and humanity is the clay. It is another way to express God's sovereignty over all people; a way to express our need to yield to His divine plan; a way to encourage us to find the purpose for which we have been made; a way to accept the divine purpose for all of God's handiwork.
God Created Us to Be Useful
What would we do without the variety of containers we use every day? Plastic milk and water jugs, glass jars, plastic containers of all sorts, cotton and canvas bags, wooden and cardboard boxes, large and small. We don't think twice about what a benefit they are. But think about biblical days, especially in the Old Testament. They had one kind of container that served a multitude of purposes: clay jars. If you had a variety of different needs, you simply made or purchased a different sized clay jar or pot. Everything was clay! Whether decorative or common, they were all made of the same stuff—dirt (clay) and water.
It's no wonder the image of a potter and clay shows up so frequently in Scripture—beginning in Genesis 2:7 where "God formed man of the dust of the ground." Molded out of clay, we are, in a literal sense, pottery. God physically shaped Adam from the clay of the earth and breathed life into him. We are all humans, a word that is akin to humus, meaning "earth" or "clay." The apostle Paul referred to our bodies as "jars of clay" (2 Corinthians 4:7, NIV).
To say that we are clay in the hands of the Potter acknowledges God's handiwork as the Master Potter, or Creator, of our physical body. It also recognizes God's authority to shape us inwardly, to spiritually fashion us into a vessel fit for His use, molded as an image of our Lord Jesus Christ. The apostle Paul says God wants to form us into "a vessel for honor, sanctified and useful for the Master, prepared for every good work" (2 Timothy 2:21). This gives us a biblical basis for thinking of the events and influences of our lives as His hands and fingers, shaping us like a potter shaping clay.
In the midst of his suffering, Job reminded God, "Your hands shaped me and made me. Will you now turn and destroy me? Remember that you molded me like clay. Will you now turn me to dust again?" (Job 10:8-9, NIV) Isaiah rebuked Israel for thinking that she, the clay, knew more than God, the Potter (Isaiah 29:16; 45:9). Jeremiah lamented that Israel, "once worth their weight in gold," had reduced themselves to mere "pots of clay" (Lamentations 4:2, NIV).
God's Hands Shape Us Into Christ's Image
Our life rests in God's hands. Like a skilled potter, He knows how to apply precise pressure, when to relax His grip, how to score our life with His fingernail, how to squeeze and nudge—all of which increases our fitness as a vessel for His use. At times the Master Potter places us in the kiln where the fires of life turn us into stronger vessels.
In her book Why? Anne Graham Lotz describes a phone call that launched her into "the wild blue yonder of faith." The call was from her son, Jonathan, who said, "Mom, the doctor thinks I have cancer." Anne instinctively prayed with Jonathan over the phone, and she later wrote this:
I was able to praise God for His divine purpose for Jonathan's life, which apparently included cancer. Although we had been caught by surprise, I knew God had known about it since before Jonathan was born…. Therefore I had absolute confidence that this suffering would be for Jonathan's good and God's glory. We knew God had a plan, apparently cancer was part of it!1
God permitted this trial in Jonathan's life as a tool in the skillful hands of the Master Potter to mature, develop, and conform him into the image of Christ. Romans 8:28 says, "We know that all things work together for good to those who love God, to those who are the called according to His purpose." And the next verse specifies His purpose: "to be conformed to the image of His Son" (Romans 8:29).
Our heavenly Father wants to use the events we encounter each day as tools with which to shape and sculpt us into the image of Christ. He wants to deepen our faith, to develop within us the quality of perseverance, and to make us watertight containers of His love, joy, peace, patience, kindness, goodness, faithful, gentleness, and self-control (Galatians 5:22-23).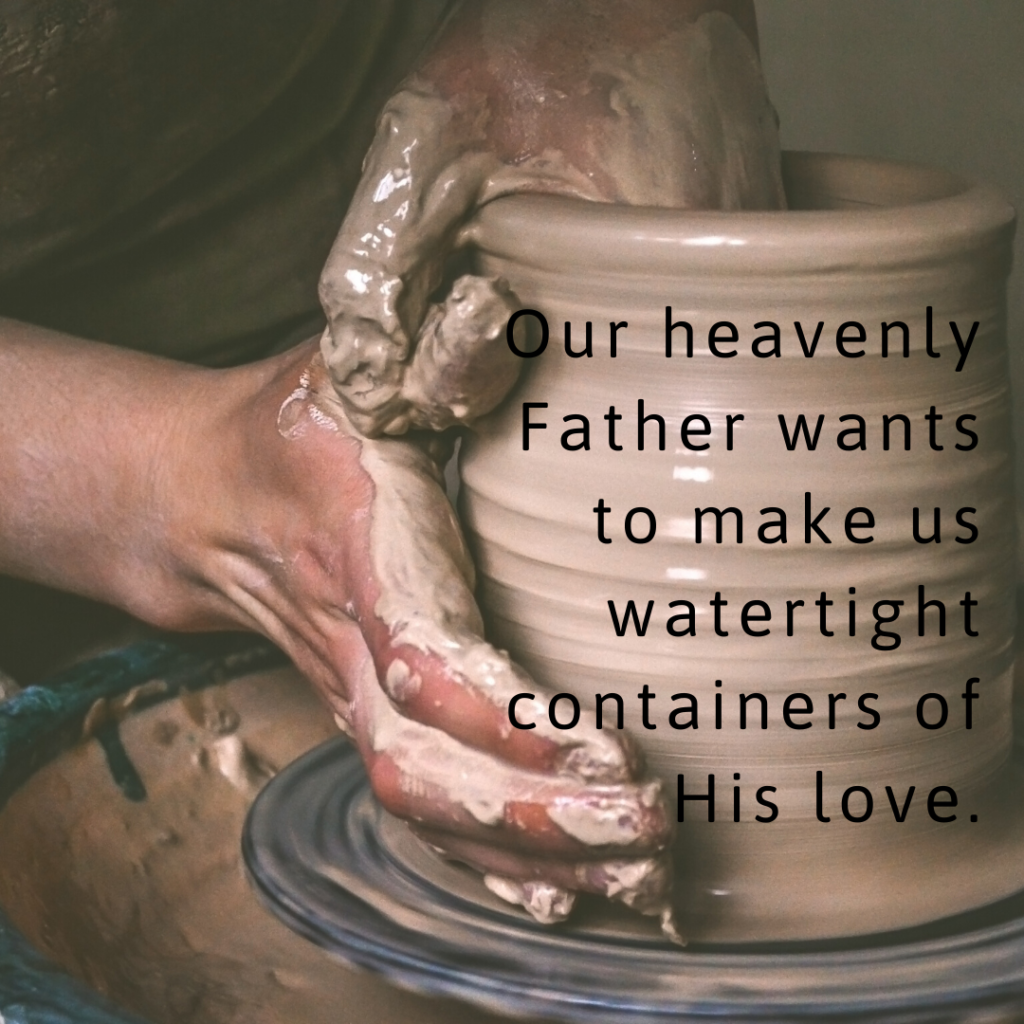 When we experience pressure, we can visualize the Divine Potter's skillful hands using it for good in our life. Trusting Him, we can echo the prayer of Isaiah: "But now, O Lord, You are our Father; we are the clay, and You our potter; and all we are the work of Your hand" (Isaiah 64:8).
God's Hands Reshape Our Broken Dreams
Sometimes we think we're unusable and even unredeemable. We've done something for which we feel shame and guilt, and we begin to believe God can no longer use us. Our problems are occasionally of our own making, and our pain may arise from our own stupidity. But when we bring our sin to the Lord, confess it earnestly, nail it to the cross of Christ, and surrender it to the power of His shed blood, God can take our sin and shame from us and then mold us into a vessel that glorifies Him.
In 1902, a 42-year-old woman sat in a prayer meeting with a broken heart. She had served the Lord faithfully all her adult life in various capacities, all the time dreaming of her heart's desire—to take the Gospel to Africa as a missionary. When her plans finally seemed to be moving forward, a lack of financial support brought her dream to a standstill. Heartbroken, she attended a prayer meeting at church.
Hardly able to focus on what was going on around her, she was struck by the words of an elderly woman who prayed, "It really doesn't matter what you do with us, Lord, just have your own way with our lives." She couldn't get that idea out of her mind as, later that evening, she sat meditating on Jeremiah 18:1-3, the story of the potter shaping the clay. Before retiring that night, Adelaide Pollard wrote out all four stanzas to the now-beloved hymn, "Have Thine Own Way, Lord," published in 1907. You may know the words to this beautiful hymn by heart, the first verse of which says,
Have Thine own way, Lord! Have Thine own way!
Thou art the Potter, I am the clay.
Mold me and make me after Thy will,
While I am waiting, yielded and still.
In Jeremiah's image of the Divine Potter and the clay, one particular thing caught Adelaide Pollard's eye: The Potter saw a blemish in the clay He was using, so He shaped the pot again. Had God delayed Adelaide's trip to Africa in order to shape her differently, to refine her for His service? She didn't know, but she was willing to yield herself to the Potter's hands. And she did eventually get to Africa as a missionary, all in God's time.
Make this verse from Adelaide's hymn your prayer as you think of the forming and re-forming work the Master Potter does in your life. With His skilled hands, He is crafting you into a vessel of honor fit for His use. Visualize your life as a studio of the Divine Potter and know that His hands are on your heart. Ask God to have His own way in your life as He shapes—and reshapes—you into His wonderful image.
---
Sources:
1Anne Graham Lotz, Why?: Trusting God When You Don't Understand (Nashville, TN: W Publishing, 2004), 22.
You Might Also Enjoy: